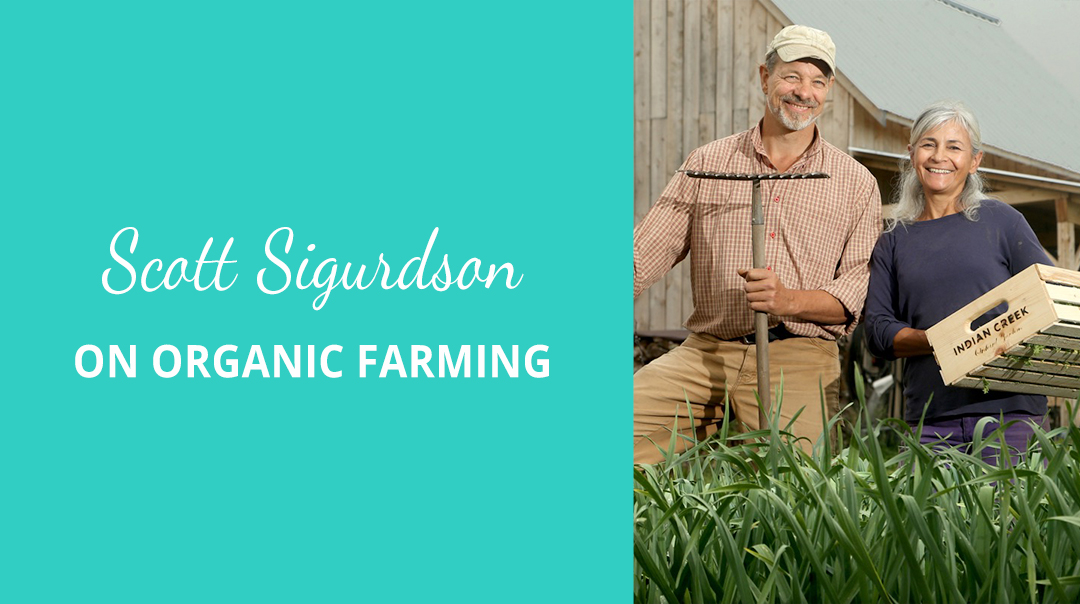 Meet Scott, co-owner of Indian Creek Orchard Gardens, an organically managed micro-farm located just outside Ottawa, Ontario.
Scott left a 35-year career in advertising and graphic design to start Indian Creek Orchard Gardens. He is a member of the Canadian Organic Growers, lectures on organic farming methods, mentors young organic farmers and is the organic voice on the Mississippi Mills Agricultural Advisory Committee.
In addition to managing Indian Creek Orchard Gardens, Scott is on the executive of the Pakenham Business and Tourism Association. He also manages the Pollinator Plant Pilot Project for Mississippi Mills, which restores roadside pollinator habitat. In his spare time, Scott breeds Australian shepherds and heritage chickens in his spare time.
Indian Creek Orchard Gardens is an impressive piece of land that is nestled on a magical five acres stretch of the Indian Creek, a small tributary of the Mississippi River between Pakenham and Almonte. At Indian Creek Orchard Gardens Scott and his partner, Marisa Buccione, employ a hybrid of regenerative, agroforestry and deep organic farming principles. Their vegetables are sown between rows of fruit trees, bush fruits and aisles of grapevines and they have purposefully left tracts of our farm wild, especially on the creekside.
Scott and Marisa value what nature brings to the table and attempt to work with it, bringing their intervention to a minimum. They favour low-tech, natural, cultural and biological practices over chemical and heavily mechanized ones.
With a goal is to provide a satisfying stream of naturally grown artisanal fruit and vegetables the entire growing season. Their vegetables are available through our CSA garden share program with pick-up locations in Almonte, and Carleton Place and at the farm stand.
Although not the initial intention, it is clear that Scott's biggest accomplishment is the community that has been built around and through Indian Creek.
To learn more about Scott and Indian Creek Orchard Gardens check out these links:
Website: Indian Creek Orchard Gardens
Facebook: Indian Creek Orchard
Instagram: Indian Creek Orchard Gardens